Barcelona has no shortage of culture, laced with history and with Gaudí pulsing through its veins; it is a city of beauty, no matter what season you visit and one that will remain with you for decades. It's the kind of place that people have difficulty describing in just a few words and so conclude by saying "you just have to go", so what's stopping you?
This Barcelona travel guide will open your eyes to a city unlike any you've visited before.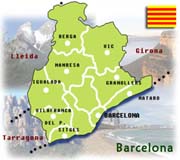 Learn here about Barcelona intricate yet compelling history.
Culture & the Arts
What do Roman ruins, Gothic plazas, Art Nouveau, Pablo Picasso, Sónar and FC Barcelona have in common? They're all defining elements of Barcelona's culture. Read more
Trips from Barcelona
Why not prolong your stay in Barcelona and make an escapade to some of the city's beautiful surroundings? Read more
Barcelona is a distinct example of an open-minded and vibrant Mediterranean city: it is a perfect city to relax in, stroll around and enjoy the liveliness of its streets and plazas. Barcelona's way of life and cosmopolitan character make of it a unique experience.
This guide will help you to organize your trip and make sure you don't miss the most important attractions of the city.
On this guide
The aim of this guide is to present you the information you will need when planning a trip to Barcelona, from all that you need to know before you leave home - Planning Your Trip- to the varied options for leisure, shopping, gastronomy and sports - Out & About-.
Apart from the basics, this Barcelona Guide contains some other complementary facts, such as a bit of the city's History and a Culture section with details on museums, architecture, theatres, music venues and the various festivals taking place in town.