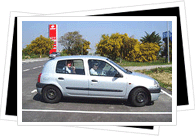 There are tons of car rental firms in Barcelona so if you have decided to hire a car and cruise your way around the city then you will be spoilt for choice! Hiring a car in Barcelona can be one of the best ways to get out the tourists trap and discover some of the less visited gems that the city and surrounding areas have to offer. It gives you the liberty to come and go as you please rather than wasting time hanging around endlessly in bus terminals and train stations!
It is often advisable to pre-book your hire car on the internet as this is usually the most economic option. Below we have listed some of the most respected car hire companies in Barcelona with website addresses and their most central offices. However, all these firms have pick-up and drop-off points conveniently located all over the city and at Barcelona's airports, so once you know where you're staying you can plan your car hire accordingly.
Rent a Car Barcelona
Alamo
Sants Railway Station, Plaza de los Paises Catalans, Barcelona 08014
Tel: +34 93491989
www.alamo.com
Avis
Sants Railway Station, Placa Paisos Catalans, Barcelona 08014
Tel: +34 9333044193
www.avis.co.uk
Europcar
Gran Vía, Cortes Catalanes 680, Barcelona 08010
Tel: +34 933020543
www.europcar.com
Hertz
C/ Tuset 10, Barcelons 08006
Tel: +34 932178076
www.hertz.com
National
C/ Muntaner 45, Barcelona 08011
Tel: +34 933230266
www.natcar.com
Pepecar
C/ Rivadeneyra, Underground car park Saba (off Placa Catalunya) Barcelona 08002
Tel: +34 902360535
www.pepecar.com
Safety when driving in Spain
If you have never driven in Barcelona before it is important to be aware of the driving laws in Spain. British and Australian drivers be sure to get on the right hand side of the road! Special care should be taken during national holidays when the most road accidents occur in Spain because so many more people take to the roads. Obviously, drink driving is illegal and Spain is particularly strict with the limit set at 0.5mg of alcohol per millilitre of blood.
Speeding can result in immediately payable fines so always watch your speed!
Speed Limits in Spain:
Motorways: 120 km/ hour
Open Road: 90-100 km/ hour
Town: 50 km/ hour