About Tarragona, Spain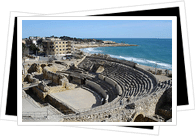 Tarragona, the Costa Daurada's largest city, is located south of Barcelona. First settled by the Romans in the 2nd century BC, it has long been an important Catalan destination and a must-see for history buffs visiting the region. Before or after heading to the beach, you can explore some of Spain's most important ruins, like a Roman amphitheater, tower and aqueduct at about a 20-minute walk from the city center.
The inner city of Tarragona is marked by two important promenades, the Rambla Nova and Rambla Vella. Both are perfect for strolling with outdoor cafes and a nice atmosphere. Make sure to check out the incredible medieval Cathedral. The Museu Nacional Arqueològic is definitely worth the visit as well.
Tarragona offers 3 main beaches. Platja del Miracle is the easiest one to reach, but it's usually quite crowded and the water can be dirty. However, the sand is clean and if you just want to spend a short time at the beach it's a worthwhile spot to enjoy a drink. The nicest beach, Platja Arrabassada, lies a few kilometers up the coast. Still further north, about 3km more, you'll find Platja Llarga. LLarga beach is a great place to find cheap restaurants.
How to reach Tarragona from Barcelona
Tarragona is 95 km (60 miles) south of Barcelona, an hour and a half train ride. The cheaper option is "rodalies" regional rail. More expensive but quicker are long distance, "largo recorrido" trains run by various companies like Arco, Euromed and Altaria. You can catch a rodalies at the Sants train station or Passeig de Gracia for about €5 and a long distance from Sants for €10-€20.
Tarragona Tourist Information
Tourist office
c/ Major 39
Open: Summer hours 9am-9pm daily, Winter hours 10am-2pm & 4pm-7pm Mon-Sat, 10am-2pm Sun
Tel: (+34) 977 250 795
Note that most interesting sites are closed on Mondays!
Museu Nacional Arquelògic (Archaeology Museum)
Plaça del Rei
Open: Summer hours 10am-8pm Tue-Sat, 10am-2pm Sun; Winter hours 10am-1.30pm & 4pm-7pm Tue-Sat, 10am - 2pm Sun
Museu i Necropolis Paleocristians (Paleochristian Museum)
Passeig de la Independencia
Open: Summer hours 10am-1pm & 4.30pm-8pm Tue-Sat, 10am-2pm Sun, Winter hours 10am-1.30pm & 3pm-5.30pm Tue-Sat; 10am-2pm Sun