While Spaniards are not nearly as gym-crazy as Americans, Barcelona residents are actually quite keen on going to the gym. After all, they've got to get in shape for when the beach season rolls around!
Just by walking around you'll immediately notice a number of Barcelona fitness centers. We've named two centric ones below, but if you keep your eyes open you're sure to find a gym that's convenient for you.
DIR
Passatge del Domingo 6-9, Eixample
Metro Passeig de Gràcia
Tel: (+34) 934 880 809 & 901 304 030
Open: 7am-11pm Mon-Fri; 9am-3pm Sat & Sun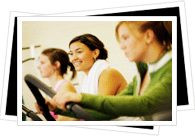 *DIR is one of Spain's largest chain of fitness clubs, so ask about other locations.
Ubae Frontón
La Rambla de Santa Mònica 18, Barceloneta
Metro Drassanes
Tel: (+34) 933 023 295
Open: 7.30am-11pm Mon-Fri, 9am-2.30pm Sat & Sun.