Movies about Barcelona
Want to get revved up for your visit to Barcelona? Two great Barcelona movies have come out in recent years, both worth seeing for the landscapes, people and stories they portray.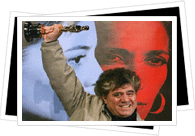 The first, "Todo Sobre Mi Madre" or "All About My Mother," by revered Spanish director Pedro Almodóvar, follows a mother on her journey to find the father of her child in Barcelona -- but it's not nearly as simple as all that. This Barcelona movie won the Best Foreign Film Oscar in 2000.
"L'Auberge Espagnol," a French film released in 2002, brings together an eclectic group of Erasmus students in a Barcelona flat. Any expat or study abroad-er will relate to the kooky trials and cultural tribulations of the film's young characters as they get to know the city and meet people from all over the world.
Barcelona Movie Theaters
Despite the Spanish penchant for dubbing nearly every foreign film that enters the country, you'll find plenty of cinemas that play movies in "versió original" (original version, in other words subtitled). Here are a number of versió original and art house cinemas in Barcelona:
Casablanca
Passeig de Gràcia 155
Metro Diagonal
Barri: L'Eixample
Tel (+34) 93 218 43 45

Filmoteca
Avinguda de Sarriá 31-33
Metro Hospital Clínic
Barri: L'Eixample
Tel (+34) 93 410 75 90

Méliès Cinemes
Carrer de Villarroel 102
Metro Urgell
Barri: L'Eixample
Tel (+34) 93 451 00 51

Renoir Floridablanca
c/ de Floridablanca 135
Metro Sant Antoni
Barri: El Raval
Tel (+34) 93 426 33 37

Verdi
c/ de Verdi 32
Metro Fontana
Barri: Gràcia
Tel (+34) 93 238 79 90

Maldà
c/ del Pi 5
Metro Liceu
Barri: La Rambla
Tel (+34) 93 317 85 29

Rex

Gran Via de les Corts Catalanes 463

Metro

Rocafort

Barri:

L'Eixample

Tel (+34) 93 423 10 60