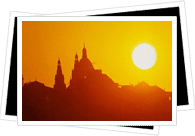 Barcelona's position on the Mediterranean lends it a moderate climate with pleasant temperatures year-round. You'll find the best
weather
during May, June & September, when temperatures are warm but not blistering and sun is abundant.
Keep in mind that August tends to be a scorcher despite Mediterranean breezes. At the other extreme,
Barcelona weather
is coldest in January. Barcelona sees plenty of rain (about 1,000 mm / year) and barely any snow.
Barcelona weather
- average temperatures by Month:
| | | |
| --- | --- | --- |
| Month | Max (ºC/ºF) | Min (ºC/ºF) |
| January | 10/ 50 | 6/ 43 |
| February | 14/ 58 | 7/ 45 |
| March | 16/ 60 | 9/ 48 |
| April | 18/ 65 | 11/ 52 |
| May | 21/ 70 | 14/ 57 |
| June | 25/ 77 | 18/ 65 |
| July | 28/ 82 | 21/ 70 |
| August | 29/ 84 | 21/ 70 |
| September | 25/ 77 | 19/ 66 |
| October | 21/ 70 | 15/ 59 |
| November | 16/ 60 | 11/ 52 |
| December | 12/ 54 | 8/ 46 |