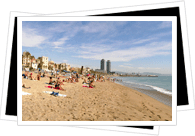 Ahhh... el mar. In the constant polemic - which is better, Madrid or Barcelona? - this is a category that gives Barcelona a huge boost. Land-locked Madrid can be pretty stifling, but Barcelona? Never. You've got the cool seaside breeze, 5 km of beaches in the city center, plus all the elements of Mediterranean culture that make life a pleasure on a daily basis. Good food, good company, good weather... in short, the good life.
About Barcelona's Beaches
Barcelona's inner city coastline contains a surprisingly clean series of urban beaches. Thanks to the Olympic Games in 1992 and local incentives to clean the coastal area, visitors as well as locals can now relax, swim and enjoy the sun at any one of 6 beaches in Barcelona. All of them were cleaned up during the 1990s and the whole area is still undergoing continuous changes to become even more attractive and enjoyable. This is part of an urban development program to improve the Barcelona seaside for tourists and residents.
All government-run Barcelona beaches dispose of free showers and toilets. Additionally, there is a life guard stand every few meters to ensure your safety. Going topless is common and not at all taboo.