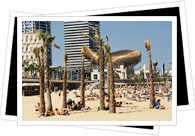 Location
If you continue northeast up the Mediterranean shore from the Barceloneta you'll hit Port Olìmpic, or "Olympic Port." Poblenou and the Forum area lie even further up the coast.
Metro stops: Ciutadella, Bogatell, Llacuna, Selva de Mar, el Maresme Fòrum, Glòries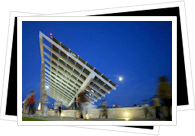 In a nutshell
Port Olímpic was built up for the 1992 Olympic Games, so it now contains a fancy marina with some nice public sculptures, along with a number of posh bars and restaurants. Its dominant twin towers, visible from nearly any point on the beach, house the luxe Hotel Arts Barcelona.
Poblenou & El Fòrum, on the other hand, are in the process of urban renovation. Despite their prime beachside location, these barris have long been underdeveloped and relatively impoverished. The 2004 "Universal Forum of Cultures," El Forum for short, ambitiously aimed to open dialogue among world cultures and simultaneously revitalize this district. The long term results remain to be seen.