With mild year-round weather, mountains, the sea and everything in between, Barcelona is a great city for all types of outdoor activitites.
Skydiving, Parachuting & Paragliding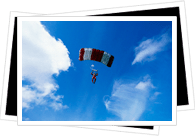 Looking for a thrill? Barcelona is the perfect place to go extreme. Aero clubs in and around the city offer everything from skydiving and paragliding courses to equipment rentals. Many drop zones are located around Barcelona and play host to international competitions. The Freefall Company - though just outside Barcelona - is a renowned and reliable club worth checking out.
The Freefall Company
Sector Aerodrome
Empuriabrava / Girona
Tel: (+34) 972 45 45 63
Horseback Riding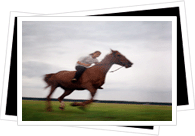 There is a municipal horseback riding school on Montjüic. They offer hour-long lessons and sessions.
Escola Municipal d'Hipica La Foixarda
Av. Montanyans 1, Montjüic
Metro Espanya then Bus #50
Tel: (+34) 934 261 066