Barcelona Music
There is so much live music going on in Barcelona, it's hard to know where to begin! With everything from classical and opera to jazz, rock, rumba, flamenco, latin, hip hop, and electronic, you name it and Barcelona's got a concert to fit the bill.
Local Barcelona Musicians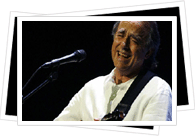 As far is local music is concerned, Barcelona's most beloved
native musicians
are mostly singer-songwriters.
Joan Manuel Serrat and Luis Llach
are the two most prominent; during Franco's rule, LLach stuck to his guns and sang exclusively in Catalan, even though the language had been banned.
On the rock scene, "Sopa de Cabra" is the most famous native Barcelona music group. Flamenco and Catalan-rumba fusion bands such as the ever more prominent "Ojos de Brujo," "Muchachito Bombo Infierno" and "Macaco" are also based out of Barcelona, providing what Spaniards like to call "pachanga" music. "Pachanga" basically means good-humored music perfect for a friendly party atmosphere.
The most famous international artist residing in Barcelona is Manu Chao, who in many ways personifies Barcelona's cultural identity. Singing in Spanish, French, Portuguese and more, Manu Chao's breakout hit Clandestino was an international sensation. He mixes styles and influences from all over the world to create a unique sound that fits right into Barcelona's music vibe.
Most concert tickets are available at El Corte Inglés or FNAC at Plaça de Catalunya (see shopping).