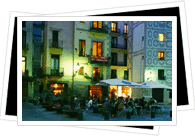 Cafe culture is still alive and well in Barcelona, with hundreds of enchanting settings to read, write, or chat over a cup of coffee and a pastry. Some cafés offer sandwiches and tapas as well; most serve alcoholic beverages along with hot drinks. Best of all, a café con leche or cup of hot chocolate rarely exceeds €1.50.
You'll find cafes on nearly every Barcelona block, but we've highlighted a couple of resident favorites.
Popular Barcelona Cafes
Cafè de l'Òpera
Las Ramblas 74, Las Ramblas
Metro Liceu
Tel (+34) 933 17 75 85
Daily 8am-2:30am
Established in 1876, the Cafe de l'Òpera has long been Barcelona's post-opera haunt. Set across the street from the Gran Teatre del Liceu, this Barcelona cafe serves up excellent coffee and croissants, an elegant decor, and second floor views of Spain's most famous boulevard. The Café de l'Opera is a diamond in the touristic rough of Las Ramblas for a relaxing breakfast or afternoon snack.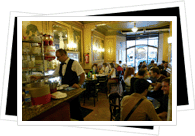 Café Zurich
c/ de Pelai 39, Las Ramblas
Metro Catalunya
Tel (+34) 93 317 91 53
Café Zurich is the most convenient spot for a rendez-vous with friends. Set directly on Plaça de Catalunya - the drop off point for airport bus and train -it's perfect for getting a cup of joe, soaking up rays and gathering energy before a big day of sightseeing.
Xocolateria la Xicra
Plaça de Sant Josep Oriol 2, Barri Gotic
Metro Liceu
If you've got a sweet tooth, the pastries and hot chocolate here are divine. This Barcelona cafe is also in the heart of medieval quarter.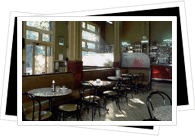 Mauri
Rambla de Catalunya 102, the Eixample
Metro Diagonal
(+34) 93 215 10 20
Take-out or sit-down, this beautiful cafe has been serving scrumptous chocolate filled croissants and other pastries since 1929.
La Colmena
P. del'Angel 12, Barri Gotic
Metro Jaume I
Delicious, irresistable dessert shop smack dab in the old part of town.