Location
Barcelona's Gracia neighborhood is located north of the Eixample. Visualizing how to get there from the harbor, you'd go up las Ramblas to Plaça de Catalunya, cross the plaza and follow Passeig de Gràcia all the way to the end. Parc Güell lies north of Gracia.
Metro stops: Diagonal, Lesseps, Vallcarca, Fontana, Joanic
In a nutshell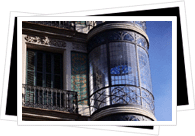 Gracia was originally its own village set apart from the rest of the city. However, when the Eixample was built in the late 19th century, it served to connect old Barcelona and Gracia. Thus Gracia ceased to be a town and become a neighborhood in the larger metropolis that we now know and love as Barcelona.
Gracia is immediately recognizable for its narrow streets, a stark contrast to the wide, modern boulevards of L'Eixample. It's known as a hip area with an active and politically-conscious community. Here you'll find a number of lively plazas, bars and restaurants, but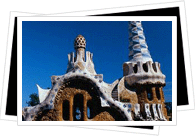 it's a little more subdued other cultural hubs like the Born or El Raval, with a slightly more mature crowd.
Barcelona's Gracia neighborhood is worth exploring for its unique personality and Park Güell, Antoni Gaudí's awesome modernista playground.