Spain's Costa Brava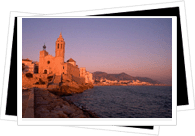 The Cost Brava is widely considered Catalonia's most charming and beautiful coast, hence its popularity as a tourist destination. Spanning the Mediterranean from the French border to about 60 km (37 miles) north of Barcelona, the Costa Brava's rugged cliffs, azure waters and golden sandy beaches make it a summer utopia.
Although you'll encounter a number of tourist traps, there are still many places worth seeing.
Empúries, for one, is a Roman town, one of the oldest settlements in Spain.
Other interesting trips include Girona, the Dali Museum in Figueres and the town of Cadaqués.
Costa Brava Beaches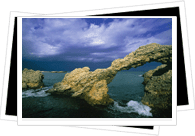 As far as beaches go, highlights include Tossa de Mar, Marc Chagall's self-proclaimed "Blue Paradise." Its main beach is Platja Gran; head a bit further north for less crowded abandonded spots.
The bus company SARFA (tel 90 230 20 25) runs routes out of Estació Nord to Tossa de Mar. A one-way trip costs about €10 and takes about 1.5 hours. By car, use the AP-7 motorway.