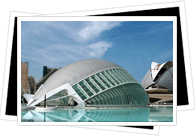 Introduction
Taking a trip to Valencia from Barcelona is a great idea if you love paella and want to be part of one of the most energetic nightlife scenes. The 3rd largest city within Spain, there is no wonder that you will have an abundance of activities. Go around March and experience the famous festival of Las Fallas.
The Sights
A stroke of architectural genius is just one of the many ways to describe the 'Museo de las Ciencias Principe Felipe.' Split into several sections, one of it's biggest advantages is the interactivity; visitors are able to participate and have fun in the entertainment and exhibits within its walls. This being said, you can imagine it's a good place to take the children. Though another smart way to spend your time is visiting the Museo de Bellas Artes San Pio V, surely the most important historical museum in Valencia. With influential artists such as Gonçal Peris and Joan Reixac, pieces generally date back to the late 14th-early 16th centuries.
The beautiful game
When travelling Valencia from Barcelona you can guarentee a good football game whichever direction you take. Valencia football club is one of the most influencial teams in the La Liga with fierce competition. If the sound of a game grabs your interest then go check it out down Estadio Mestalla though though in late 2009 the team is to move into the new ground of Nou Mestalla. If you are interested in Moto GP then the Ricardo Tormo circuit is a thrilling place to feed your habit. Named after the great Valencian born Ricardo tormo is is a short drive to Cheste. Finally, there a several golf courses to relax and enjoy a round. First stop is Hotel Sid Saler, a creditable structure making it an easy walk the course will have you taken back by the scenery, afterwards you can finish off with a few games of tennis or a dip in the nearby pool. Club de golf Escorpion is an 18 hole course that has the advantage of a health and beauty spar adjacent ready to take care of those sports injuries or even just to pamper yourself (can't blame you!).
Shopping
For the shopping experience to empty your credit card on check out El Rastro, a place where the bargain of the century or a random piece of 2nd hand junk can be found. How it is valued depends entirely on your tastes but rest assured you'll have a great time hunting around.