Location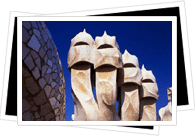 The Eixample marks the modern part of Barcelona spread above the former medieval walls of Cituat Vella. (Ciutat Vella is the name for the old section of town and refers to the Barri Gòtic, El Raval and La Ribera) and below the neighborhood of Gracia.
Metro stops: Passeig de Gràcia, Diagonal, Hospital Sant Pau, Sagrada Familia, Marina, Alfons X, Monumental, Verdaguer, Tetuan, Girona, Urgell, Rocafort
In a nutshell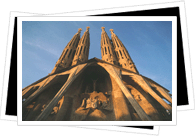 Eixample means "extension" or "enlargement" in Catalan. During the city's 19th century industrial boom, architects planned wide diagonal boulevards reaching out from old Barcelona to form a new bourgeois stomping ground.
The Eixample remains mostly upper-middle class, characterized by fancy shops and tranquil street scenes, yet its uniquely modernista character makes it a fascinating place to get to know. Nearly every architectural attraction from the turn of the 20th century is located in the Eixample. See the modernisme page for more about this important Barcelona style.