Barcelona
is not a dangerous city, in the sense that there are few violent crimes committed compared to major urban centers in the United States, for example. Petty crimes, however, are quite prevalent. Thieves are especially aware of tourists and are experts at taking advantage of newcomers' naivety when caring for belongings, especially in crowded areas such as
Las Ramblas
, the metro cars and buses.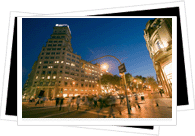 While it is not necessary to walk the streets of
Barcelona
in fear, it is important to
be aware
of those around you, and be smart about where and how you carry your bags and wallets. For example, keeping your wallet in your back pocket is paramount to asking someone to snatch it. If you must keep money in your pockets, the front pocket is a much safer option. The best idea is to keep important items such as passports, credit cards and large sums of money in some sort of pouch underneath your shirt (around your neck, for example). Backpacks are also extremely vulnerable, so you might want to lock any pouch containing valuables or at least bury them in an inaccessible interior pocket. If possible, women should wear their bags strapped diagonally over one shoulder, with the bag in front rather than resting on their back. (It may not be the most attractive way to wear your bag, but it's the safest! That way no one can snatch your purse off your shoulder, and you can keep an eye out at all times).
The rule of thumb is to be on guard and use common sense. Petty thiefs are experts even at robbing the most aware tourists, so just be especially careful in crowded areas.
If you are robbed and want to report a theft, you should go to the national police ("policía nacional"). There is a police station ("comisaría" in Spanish, "comissaria" in Catalan ) near Las Ramblas at the metro Paral.lel on Carrer Nou de la Rambla 80.
EMERGENCY NUMBERS FOR BARCELONA
For all general Barcelona information, you can call
010
. From there they will refer you to other numbers as well.
Ambulance: 061
Catalan state police (
Mossos d'Esquadra
): 088
EU standard emergency number: 112
Fire Department (
Bombers
)
:
080, 085
Local Police (
Guàrdia Urbana
): 092
Military Poilce (
Guardia Civil
): 062
National Police (
Policía Nacional
): 091
Hospitals: 93 454 60 00 / 93 418 34 00
Dental emergencies: 93 227 47 47
OTHER USEFUL NUMBERS FOR BARCELONA

R.E.N.F.E (National Train Service) 93 490 02 02
FGC (Generalitat Trian Service) 93 205 15 15
Post office 902 19 71 97
Customs 93 301 30 08
Embassies & Consulates

CREDIT CARD NUMBERS IN SPAIN

If you have a credit card mishap and need to make a cancellation, you can call these toll free numbers:
American Express: 900 994426
MasterCard: 300 371231
Visa: 900 991124

24-HOUR PHARMACIES
Here are a few 24-hour pharmacies in the center of Barcelona. You can also call the general info number (010) or 098 for more listings.
Farmàcia Clapés, La Rambla 98, tel. 93 301 28 43
Farmàcia Torres, Carrer d'Aribau 62, tel. 93 453 92 20
Farmàcia Álvarez, Passeig de Gràcia 26, tel. 93 302 11 24.