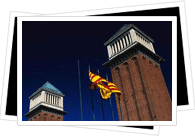 Location
Montjuic is a hill that overlooks Barcelona from the southwest. The low-lying area around Plaça de Espanya just below Montjuïc is Poble Sec. Poble Sec is easily accessible at the metro stops Espanya and Poble Sec.
Getting to Montjuic is a little more complicated than arriving at other parts of the city. Due to its elevation, the metro does not run there. One option – by foot - is to use the series of escalators that run from the Palau Nacional at Plaça Espanya up the hill.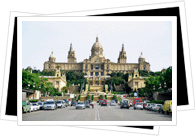 A hike up to the top of Montjuic would take about an hour on a so-so trail.
Bus lines 50, 61 and 55 will also take you there.
Alternatively, at the metro stop Parallel, you can take the funicular railway to Estació Parc Montjuic.
When the "Teleférico de Montjuic" is running (it has been temporarly closed or working with limited schedules), you can take thiscable car from the Torre de Sant Sebastià in the Barceloneta over the sea and up to Montjuic.
In a nutshell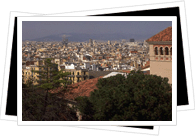 Montjuic ("Jewish Mountain") is a must-see area of Barcelona. With beautiful views of the city, 2 of the city's best museums and a vast park, this hill is definitely worth the hike. Northwest Montjuic is also home to the "Poble Espanyol," a touristy, slightly cheesy but nonetheless attractive rendering of a "Spanish Village."