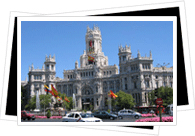 Introduction
A trip from Barcelona to Madrid is a great investment of your time. Madrid is home to an unrivaled sense of energy, radiating from its cultural traditions which continue to influence the capital up until the present day. The only way you can be stuck for what to do here is only due to the sheer variety of activities on offer.
Art
For those with a keen interest in art or perhaps just a general curiosity, there is plenty to see. You should begin by heading over to the Museo Thyssen Bornemisza, with a fine collection of early Italian exhibits and work from English, German and Dutch schools. It is part of the Golden triangle of Art alongside the Reina Sofia and Prado. You definitely shouldn't miss out on the opportunity to capture part of artistic history. Want to get a taste of the Royal lifestyle without getting a telling off for staring through the keyhole? It's ok, we've all been there. Head on down to Palacio Real, the former home of the royal family and present-day tourist attraction. Although not all of the rooms are open (perhaps a fair few are tempted for a nap) it is made up to you with the beautiful gardens: Jardines del maro and Sabattini gardens.

Love the Game
Calling all football fan! Apparently football is a bit of a big thing in Madrid (who'd have known) yes and Real Madrid FC have quite the reputation of being one of the most successful teams in the world. Now that your attention is focused let's explain what it's all about. The two main teams are Real Madrid and Atletico, who play at the Santiago Bernabeu and Vicente Calderon stadiums, respectively. With La Lliga and Champions League games available at a reasonable price be sure to get down there to ensure getting a ticket to the all important games. If you haven't arrived in Madrid on a game day then you can take an extensive tour around the stadium which will satisfy all football fans!
If you want a change of pace from football or are simply a general sports fan, get courtside for the 3 pointers flying in all night long. It is most certainly good! With two main teams in the league, Real Madrid and Estudiantes, you have the fun of choosing a team with ticket prices starting at 20 euro each. With Spain quickly moving up the league tables of being one of the best countries for basketball, make sure you get involved!
Taking a stroll
One park that should always be on your hitlist when in Madrid is Parque del Retiro. Calling it huge still underestimates it and it will take you a good couple of trips to get around its vast range of activities. Luckily, its proximity to the nearby golden triangle of museums means you will have an excuse to head down more than once. Looking for somewhere that combines the relaxation for adult and excitement/entertainment for kids? Rosates and the Parque del Oeste are the right places to go.