Location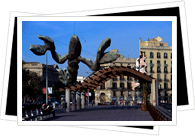 Port Vell means "Old Port." You'll find it at the bottom of Las Ramblas on the glistening waters of the Mediterranean. La Barceloneta is the area of beaches closest to Port Vell, just northeast up the Mediterranean coast.
Metro stops: Drassanes, Barceloneta
In a nutshell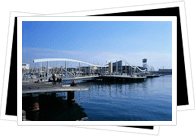 The area around Port Vell has been a hub of Barcelona's maritime activity since Roman times. Its formerly decrepit docks were renovated and revitalized in recent years to form a modern commercial complex. Besides the plethora of yachts and sailboats anchored at Port Vell you'll find Maremàgnum, a multilevel complex of restaurants and shops.
There's also an IMAX theater, a great Aquarium, and a some touristy clubs for nighttime partying. On a nice day, there's nothing more pleasant than swinging your bare feet off the docks and drinking in the scenery around you.
The Barceloneta is Barcelona's main city beach. Surrounded by a ton of seafood restaurants and beachside "chiringuitos" ( little huts with tables that sell drinks and food) the Barceloneta may not be the cleanest beach in the world, but it's surely one of the most enjoyable!
For more details about the Barceloneta also see Barcelona beaches.