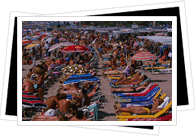 About Sitges, Spain
Sitges: summer home to Barcelona's chic society and gay community, hot spot for party-goers, magnet for sun and beach lovers... all in all and the place to go if you want to party 'til you drop. Since Sitges is such a popular beach resort, it can be expensive, crowded and touristy, especially during the high season and on weekends. If you don't mind braving the hordes, though, you're guaranteed a great time at night and wide, sandy beaches during the day.
Sitges is also renowned as a gay hotspot. The gay community comes out in full force during carnival time, throwing one of Spain's wildest seasonal parties (Feb-March). See Barcelona city festivals for more.
Beaches in Sitges, Spain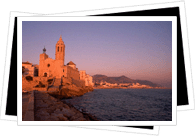 There are 15 different beaches in Sitges along more than 3km of coast in the city center, plus 7 beaches located in the municipial district. The latter ones are quieter and more relaxed whereas the city beaches offer all types of beach activities and services, such as boat rental, sport activities, chair rental, life guards, public toilets, etc. The water and sand are of high quality and significantly nicer than beaches in Barcelona. Sitges's Passeig Marítim is a great promenade with restaurants and bars -- daytime beach action is concentrated around here, so be prepared for quite the scene.
How to reach Sitges from Barcelona
During the high season (May-October) you can catch a "rodalies" train from the Barcelona Sants station. No need to buy tickets in advance, since as many as 4 trains leave every hour. Alternatively, hop on a "rodalies" train at the Passeig de Gràcia metro station towards "Vilanova / St Vicenç." It will take you approximately 25 minutes to reach Sitges beaches by train. The last departure from Sitges to Barcelona is around 10:30 pm.
Sitges Tourist Offices
P. de Villafranca (at the Oasis Shopping centre)
Summer hours: 9am-9pm daily
Winter hours: 9am-2pm & 4pm-6.30pm
Tel: (+34) 938 110 611
C. de Fonollar s/n (not numbered)
Summer hours: 10am-1:30pm & 5-9pm daily
Winter hours: Sat 11am-2pm , Sun 11am-4pm
Tel: (+34) 938 110 611