Parks in Barcelona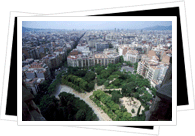 Barcelona has a number of parks, all great options if you prefer greenery to the city's beaches.
Below we highlight 4 of the best Barcelona parks, each offering a different outdoor experience. You can immerse yourself in Park Güell's modernista wonderland, check out the animals at the Park de la Ciutadella's zoo, ride some roller coasters in the Tibidabo Amusement Park, or admire the city's blooming botany collection at the Park of Montjuïc. (See tab for Park Guell)
Ciutadella Park & the Barcelona Zoo
Passeig de Picasso, La Ribera
Metro Arc de Triomf
Open 8am-6pm Nov-Feb; 8am-8pm Oct & March; 8am-9pm Apr-Sept
If you're looking for some green respite right in the city center, the Parc de la Ciutadella is your best bet. Formerly a military fortress, then the main grounds for Barcelona's 1888 Universal Exhibition, the park currently holds the Museu de Zoologia, a couple of small aboreta, the Museu de Geologia, and Barcelona's zoo.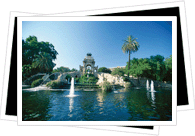 On a nice Sunday, the Parc de la Ciutadella turns into a pleasant multicultural hippie-fest, with massive drum circles and the occassional improvised conga line. Whether you want to take some sun, play the guitar, chat with friends or do some stellar people-watching, it's the perfect option for a lazy Sunday.
The zoo is quite popular amongst both children and adults and has very reasonable entrance fees. Open from 10am-7:30pm April-September; 10am-5pm October-March.
Parc d'Atracciones - Barcelona Amusement Park
Summer hours: noon-10pm weekdays, until 1am on weekends
Off-season hours: noon-6pm on weekends only, with varying closing times depending on the weather
Tel (+34) 93 211 79 42
With rides dispersed over the slopes of the Tibidabo mountain, Barcelona's amusement park provides a wonderful excuse to ascend Barcelona's highest peak for ample views of the city, the Pyrenees, and even the Baleares Islands on a nice day. You can enjoy attractions as diverse an an antique fairground and rides from the 1920s to modern roller coasters.
The FGC To Avinguda Tibidabo (last stop on the Tibidabo line) will drop you right at the gates of the Tibidabo Amusement Park. On weekends and holidays you can take the antique tram service up the hill.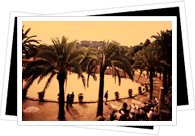 Park Collsera
Carretera de l'Església 92
FGC Baixador de Vallvidrera
Information Center open 9:30am-3pm
Tel (+34) 93 280 35 52
This Barcelona park, in the hills of the Zona Alta, is by far the best place to hike, bike or jog within Barcelona's city bounds. Full of snack huts, picnic benches and small eateries, you can grab a bite with friends or get some outdoor exercise. Don't be surprised if you stumble upon medieval ruins, Romanesque churches and old country houses as you amble around - this park is full of culture as well as leisure.
Barcelona Botanical Garden & Montjuïc Park
C/ Dr. Font i Quer, núm. 2, Montjuïc
Metro Espanya, Bus 50, 55, Parc of Montjuïc
Tel (+34) 93 426 49 35
Open: April-June & Sept, 10am-5pm weekdays, until 8pm weekends & holidays; July & August, 10am-8pm everday; October-March, 10am-5pm everday.