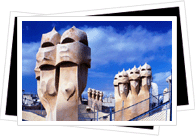 These pages only graze the surface of great places to get involved in Barcelona culture. With frequently changing exhibits, film series, conferences, workshops, concerts and more, there's always something happening around town. The hard part is choosing between so many great options!
Barcelona's 3 most prominent cultural centers are:
As always, we recommend using the "Guía del Ocio," found in any kiosk, for a weekly rundown of expositions.