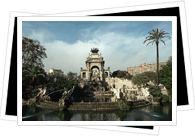 Sprawled between the beaches of the Mediterranean and the hills of Montjuïc, Barcelona is a city whose personality bursts at every natural seam. The capital of Catalonia, one of Spain's 17 autonomous communities, Barcelona is also known as the country's most progressive city, always on the cutting-edge of European art, fashion and cuisine. What's more, its energy is unparalleled, with hundreds of bars, restaurants, cafes and clubs… so be prepared to party 'til dawn and hit the streets with the rest of the city's nearly 2 million inhabitants.
If there ever were a city to be defined as "cosmopolitan," it would be Barcelona. More international than Spanish, it has been a vital Mediterranean port for centuries. Just spend a sunny afternoon hanging your feet off the docks of Port Vell and you'll immediately notice the diversity of nationalities, cultures, ethnicities and languages that Barcelona encompasses.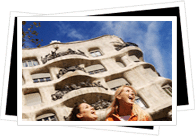 The Catalan people speak two official tongues –Catalan and Spanish – and their culture has what some may call a more 'sophisticated' flavor than other Spanish regions, perhaps due to the influence of neighboring France. In any case, don't go to Barcelona expecting flamenco dancers and bullfights. Those aspects of southern Spanish culture are not as present here, but Barcelona has so much to offer that they're hardly necessary.
Aesthetically speaking, Barcelona is the most innovative and intriguing of all Spanish cities. Its beautifully preserved Gothic Quarter (Barri Gòtic) contains an impressive concentration of medieval buildings within the former confines of 4th century Roman walls. While this neighborhood signals the height of Barcelona's prosperity in the 13th to 15th centuries, the Art Nouveau structures of the Eixample area manifest the city's 19th century affluence and industrial success. Here, the masters of Catalan modernisme – most notably and prolifically Antoni Gaudí - constructed houses, parks and churches characterized by undulating, colorful, experimental forms that rejected the rigid neoclassicism so popular in the earlier half of the century.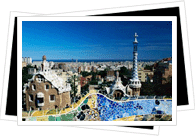 To tie it all together, Barcelona has its beloved Ramblas, a bustling street with a plethora of restaurants, cafes and shops that diagonally traverses the old part of town. Strolling up this avenue will lead you away from the sea and winding cobblestone streets of the old part of town to the wide boulevards of L'Eixample. The Ramblas is the heart of Barcelona, its most populated area at any given hour and the first stop for every visitor.
As if Barcelona's exterior facades and buildings weren't fascinating enough, visitors can also head indoors and see some of the finest museums that Europe has to offer. There are specific ones dedicated to the works of Pablo Picassoand Joan Miró, along with the more general Museu Nacional d'Art de Catalunya, which boasts amazing examples of Romanesque and Gothic painting. Add to these monthly film festivals, special exhibits and concerts and you'll soon realize that it's impossible to be bored in this city… in fact it's impossible to fit in all the activities that you'll want to do!
Whether you plan to travel to Barcelona, Spain or live there for a while, you're pretty much guaranteed an amazing journey. Come take advantage of this avant-garde, internationally diverse setting. Taste some delicious Mediterranean cuisine, enjoy a beachside drink and expand your cultural horizons, but be warned that once you travel to Barcelona it's hard to turn back!