Location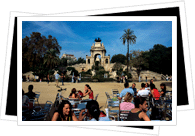 La Ribera/ El Born lies east of the Gothic Quarter, enclosed by the Parc de la Ciutadella to the northeast, the Barceloneta to the south and the Via Lietana to the southwest.
Metro stops: Jaume I, Arc de Triomf, Urquinaona, Ciutadella, Barceloneta
In a nutshell
La Ribera, the historically wealthy section of medieval Barcelona, could now be considered the SoHo of Barcelona. Its main axis, Passeig del Born, is full of Barcelona's most fashionable bars, shops and restaurants, which has led many to simply refer to this area as "El Born."
Barcelona's #1 most visited attraction, the Picasso Museum, lies on Montcada Street in just one of a gaggle of beautiful medieval mansions dispersed throughout the Barcelona barri of La Ribera.