Barcelona Architecture
Barcelona is a city with mind-blowing architecture. When you first encounter Antoni Gaudí's La Sagrada Familia or his rooftop sculptures at La Pedrera, you'll be floored by the originality and hallucinogenic quality of his works. There's much in Barcelona unlike anything you've ever seen.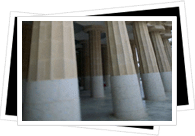 Barcelona architecture is, in reality, an attraction in itself. Just stroll around the city, especially through the Gothic Quarter and the Eixample, and you'll find an endless amount of fascinating buildings and unexpected treasures.
From Roman times to the Gothic period to the Catalan Art Nouveau, "modernisme," Barcelona's architecture naturally transmits the city's rich history. It speaks for eras of varying prosperity and decline, for fervent Catalan nationalism or subjugation to the central government, for Expos, Olympic Games, Cultural Forums and more.
The two most important styles of Barcelona architecture are Catalan Gothic, a medieval style, and Modernisme, a turn of the 20th century movement protagonized by Antoni Gaudí.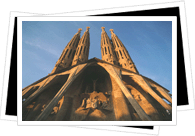 Apart from the Middle Ages and Barcelona's turn of the 20th century "Renaixença" (Catalan Renaissance) it's well worth mentioning the city's ancient remains.
You can see significant sections of the 4th century Roman walls at the Museu d'Història de la Ciutat and inside the Cathedral's Casa de L'Ardiaca, the Archdeacon's House.