Central Barcelona Beaches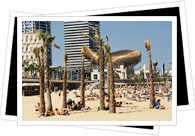 Platja de Sant Sebastiá and Platja de Barceloneta are the two closest beaches to the city center, located between Port Vell and Port Olimpic. Their proximity to the city center makes them perfect for a quick change of atmosphere, but also means they're the most crowded and touristy.
If you'd like to sip on a beachside refreshment or grab an easy bite to eat, you can pull up a chair at any number of "chiringuitos." A chiringuito is basically a hut with a bar and a few waiters that sets up tables on the beach. It's one of Barcelona's great pleasures, and they line the beaches in Barcelona all the way up the coast.
San Sebastia and Barceloneta beaches can be easily reached by metro, bus, or foot from anywhere in the old part of town. You can also combine the beach visit with a nice walk along the promenade -- from the end of las Ramblas it will take you approximately 20 minutes.
Platja de Sant Sebastia
Metro: Barceloneta
Bus: 14, 16, 17, 39, 40, 45, 51, 57, 59, 64, 157
Car: 250 parking spots
Platja de Barceloneta
Metro: Barceloneta or Ciutadella
Bus: 14, 16,17, 36, 39, 40, 45, 51, 57, 59, 64
Car: 772 parking spots
Northern Barcelona Beaches
The series of northern beaches beginning at Port Olimpic and ending at the new residential and commercial district, the "Front Marítim", are less crowded. The busiest, Platja Nova Icària, lies right next to the Olympic port. A small strip of the Platja Mar Bellais a nudist.
You can the northern beaches in Barcelona by metro, bus or car. Note that the metro stops are about a 10 to 20 minute walk from the beaches, so you might want to grab a map before hitting the shores. The further north you go, the more relaxing and empty the beaches will be.
Platja Nova Icària
Metro: Barceloneta or Ciutadella
Bus: 6-36-41-92-141
Car: 500 parking places
Platja del Bogatell
Metro: Poblenou or Llacuna
Bus: 6, 36, 41, 92, 141
Car: 600 parking places
Platja Mar Bella
Metro: Selva de Mar
Bus: 36, 71, 141
Car: 1,500 parking places
Platja Mar Bella Nova
Metro: Selva de Mar or Besòs Mar
Bus: 36, 43, 141
Car: 750 parking places
Internet Guide: