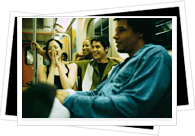 The FGC (Ferrocarrils de la Generalitat de Catalunya) trains largely provide transport to suburban areas, leaving from 2 important hubs: Plaça de Catalunya & Plaça de Espanya. They may, however, be convenient for traveling around the city center as well.
Prices increase depending on the zone, 1 being the center, progressing outwards to 6. Note that you may use integrated passes by zone valid for the metro, bus and FGC.
For routes and more detailed price information, see www.fgc.net.