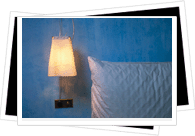 Terminology for budget sleep options can be a little confusing. From "hostal" to "albergue," "pension," "fonda," and "residencia," you'll find yourself asking, "what in the world is the difference?" Don't worry: these terms are largely interchangeable.
"Pensiones" and "hostales" tend to be small, family-run hotels. In other words, you'll find single and double rooms at these Barcelona hostels, but often will share a bathroom with other guests. You'll pay roughly between €30 and €60 a night per person.
A Barcelona youth hostel is usually called a "hostal" or "albergue." (So when you see "hostal" it could really be this or a family-run hotel, so don't forget to ask). Youth hostels tend to pack bunk beds into a large room and provide a number of shared bathrooms. If you don't mind possibly noisy conditions and a bunch of backpackers snoring around you, these Barcelona hostels are the cheapest option starting around €15 a night for a bed.