Antoni Gaudí & Other Modernistas
Antoni Gaudí is far and away the most famous modernista architect, while equally impressive architects like Lluís Domènech i Montaner and Josep Puig i Cadafalch are often overlooked. We hope you won't make that common mistake!
Below you can find information on the main highlights of modernism architecture in Barcelona. Or, if you'd like an expert tour, check out the city's official sightseeing tours.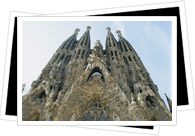 La Sagrada Familia
Antoni Gaudí was an avid Catalan nationalist and an extremely devout Catholic, especially at the end of his life. This church - "The Expiatory Temple of the Holy Family" - was his final obsession, the culmination of his architectural theories and religiosity. Gaudí died in 1926; the temple remains an unfinished masterpiece. Construction resumed in the 1950s and continues to this day.
When the public lift is running, it's well worth the €2 trip up to walk between spires. If you suffer from vertigo, however, the dizzying descent might not be the best idea -- there's no elevator service on the way down.
Visitor Information:
c/ de Mallorca, 401, L'Eixample
Metro Sagrada Familia
Tel (+34) 93 207 30 31
Email: info@sagradafamilia.org
Open: October-March 9am-6pm; April-Sept 9am-8pm
Prices: €8 individual adult; €5 groups over 20, youth & students with card; + €3.50 guided tour
Combined admission: €9 Temple Sagrada Família + Park Güell
Elevator 65m (214 ft) up: €2
La Pedrera
Another one of Gaudí's most visited buildings, "The Quarry," also houses the Caixa Catalunya Cultural Center. Read more here: La Pedrera
Fundació Tàpies
This fine building by Domènech i Montaner holds works by one of the region's most beloved artists, Antoni Tàpies. Read more here: Fundació Tàpies
La Manzana de Discordia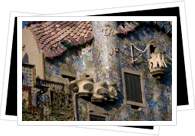 The "Block/Apple of Discord" ("manzana" has two meanings in Spanish), contains a trio of houses by the 3 big-name modernistas: Antoni Gaudí, Puig i Cadafalch & Domènech i Montaner.
Strolling down this section of the Passeig de Gràcia is a great way to get a taste of modernisme's varying styles and personalities. Casa Battló, designed by Gaudí and owned by the Chupa Chups lollipop family, is well worth entering. Just get off at the metro Passeig de Gracia and stroll right up!
Casa Battló (Antoni Gaudí)
Passeig de Gràcia, 43, Eixample
Tel: (+34) 93 488 06 66
Open: daily 9am to 8pm
€16.50 complete tour, includes audio guide
€13.20 students, groups (over 20) and seniors

Casa Amatller (Puig i Cadafalch)
Passeig de Gràcia, 41
Tel (+34) 93 488 01 39
Open: 10am-7pm Mon-Sat; 10am-2pm Sun
Free admission
Casa Lleó Morera (Domènech i Montaner)
Park Güell
You won't want to miss this modernista playground by Antoni Gaudí. Read more here: Park Güell
Palau de la Música Catalana
Find out more about this fantastical concert hall by Domènech i Montaner in the classic music section: classical music in Barcleona