Tourism Highlights around Port Vell:
The Port Vell Complex
Maremagnum
L'Aquarium
Passeig Maritim
Seafood Restaurants
La Barceloneta
There's no mistaking Port Vell once you get there. Marked by the Monumnet a Colom at the end of Las Ramblas, the harbor is made up of a large series of docks perfect for strolling around and exploring. You can check out the yachts, see an IMAX movie, shop and eat in the Maremagnum mall, discover Barcelona's Aquarium, or enjoy an cool treat from a outdoor venders.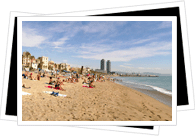 Follow the Passeig de Colom, a wide avenue running northeast of Port Vell, turn towards the sea and you'll hit a boardwalk of sorts - the Passeig Maritim - signaling the beaches of the Barceloneta.
Formerly uninhabitable, a series of clean-up projects since th 1980s have made the Barceloneta a popular meeting place during summer months. Whether swimming, sunbathing or sipping on a drink at a beachside hut ( "Chiringuito"), you'll revel in the fact that in front of you lies the warm Mediterranean and behind, one of the coolest cities in the world!
Head inland from the beach and you'll find the gridded streets of the Barceloneta neighborhood. Barcelona's best Seafood Restaurants are scattered throughout here.