Gracia has a formed an important part of Barcelona Culture since officially joining the city bounds in the 19th century. A republican/ liberal stalwart during Spain's 1st and 2nd Republics and Civil War (1936-1939), Gràcia went bohemian again in the 1960's and 70's. It's still common to see anarchist flags hanging from apartment buildings and other signs of political radicalism on the streets and in plazas, restaurants and bars.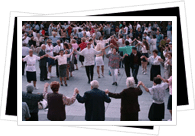 While undoubtedly more gentrified and subdued than during its rebellious past, Gràcia remains a one-of-a-kind, funky neighborhood. Its mixed population of students, intellectuals, artists and families join together to organize the Festa Major de Gracia , the best and most creative community festival of the year.
Where to experience Barcelona Culture in Gracia:
Music Venues
La Cova del Drac, " Jazzroom"
Centre Artesà Tradicionàrius - CAT (Folk)
Movie Theaters (Original Version with subtitles)
The Neighborhood Festival of Gracia, celebrated during the last half of August, is an incredibly well-organized and artsy local fiesta. Gràcia's residents spend months planning parades, concerts, floats, arts & crafts activities and more.
During the day, events are held in the area's brightly decorated streets and squares. Acrobats build amazing human towers; performers dress up as giants and devils to express Catalan folklore.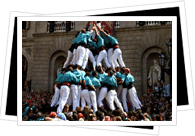 At night, the Festa Major de Gracia inspires live music, dancing, fireworks and general partying outdoors. Best of all, it's not just for those who live there: the whole city heads to Gràcia to join in the fun!
For complete Barcelona culture listings (address, telephone, metro, etc.), click on the title links of each section above.