If Raval is the epicenter if Barcelona's counterculture, El Born, the lower half of La Ribera, expresses its trendy side. La Ribera locales welcome a mix of the city's über-cool as well as a handful of tourists.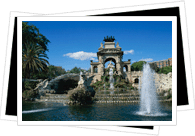 Just wander the streets of La Ribera and you'll encounter all the hip stores, restaurants and bars that give Barcelona culture its happening, revered reputation. Another great activity is to visit the Parc de la Ciutadella on a Sunday for improvised drum circles and African dance. It's the best place to witness the kaleidoscope that is Barcelona's population.
The indisputable highlight of Barcelona culture in La Ribera is the Picasso Museum, drawing thousands of visitors each day. Although Picasso was born in Málaga, he spent his formative years in Barcelona's Ciutat Vella, the old town. Another impressive collection, the Barbier-Mueller Museum of Pre-Columbian Art, houses the world's finest remnants of South American primitive cultures.
Barcelona Culture in La Ribera/ El Born:
Museu Picasso/ The Picasso Museum
Museu Barbier-Mueller d'Art Pre-Colombí/ The Barbier-Mueller Museum of Pre-Columbian Art
Museu de Geologia/ The Geology Museum
Museu de Zoologia (Castel dels Tres Dragons)/ The Zoology Museum
Museu de la Xocolata / Chocolate Museum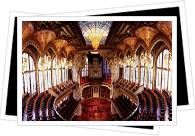 Palau de la Música Catalana (Classical & Opera)
L'Hivernacle (Jazz)
The Clansman (Scottish & Celtic)
Movie Theaters (original version with subtitles)
For complete Barcelona culture listings (address, telephone, metro, etc.), click on the title links of each section above.