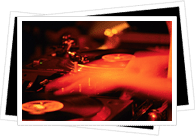 While Poblenou is hardly a scenic neighborhood, its industrial streets are home to some big names on the Barcelona club scene such as Bóveda (c/ de Pallars 97), Catwalk (c/ de Ramon Trias Fargas) and the enormous Razzmatazz.
Razzmatazz welcomes international rock and pop stars along with national flamenco fusion favorites. It serves simultaneously as a concert venue and club, with different rooms and floors dedicated to different sounds.
The Primavera Sound festival, a yearly staple of Barcelona culture, has a new home since 2004: the Parc del Forum.
Where to experience Barcelona Culture in Poblenou:
For complete Barcelona culture listings (address, telephone, metro, etc.), click on the title links of each section above.