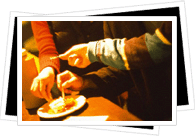 Here's a rundown of Spanish eating customs. It's quite different from other countries - mainly because everything happens a couple of hours later! Don't expect to dine before 8:30pm, and don't expect to eat lunch at noon either...
Breakfast/ El Desayuno
The least important meal of the day... some Spaniards skip it entirely!
Time frame: sometime before 10am
Usually "continental," consisting of coffee, juice, hot chocolate or tea + a croissant, toast with butter & jelly, toast with olive & tomato, any other kind of pastry, or even a pincho de tortilla - a slice of a Spanish omlette.
Coffee/ El Café
After 1 or 2 hours at the office, it's typical for co-workers to step out to the local cafetería for a coffee.
Time Frame: between 10:30 and noon
Café solo (Spanish)/ Cafè sol (Catalan): a shot of espresso
Café cortado/ Cafè tallat: a shot of espresso with a little bit of milk
Café con leche/ Cafè amb llet: a shot of espresso with a lot of milk (like a latte)
Café americano/ Cafè americà: watered down coffee, American style

Lunch/ La comida
By far the largest and most important meal of the day
Time Frame: sometime between 2pm and 4pm
This is the time of day to find great cheap deals at otherwise expensive restaurants.
Most places have a "menú del día," a prix fixe menu allowing you to choose from various options for 1 appetizer and 1 main course. Usually includes dessert and a beverage as well. Prices range between €7-€11.
Afternoon Snack/ La merienda
Since Spaniards eat dinner so late, some may have a light afternoon snack to hold them over.
Typically a pastry, hot drink, or small sandwich
In Barcelona, pa amb tomàquet is a typical merienda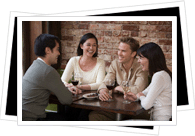 Dinner/ La cena
This is a much lighter and later meal than many foreigners are accustomed to. Restaurants won't open until 8pm or later.
Time frame: 8:30pm at the very earliest. Typically 9pm-10:30pm
While tapas culture is not very strong in Barcelona, it's still worth mentioning as a local dinner option. A tapa is basically a small portion of food, meant for sharing. There are all kinds of tapas: cheese, cured ham, croquettes, anchovies, potatos with ali-oli or spicy sauce...
The culture of tapeo is highly social. Typically, a group of friends will hop from bar to bar, eating a couple plates at each destination and drinking beer or wine along the way.
Tapas are usually eaten standing up!