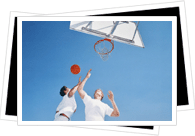 Next to soccer, basketball is the most popular Barcelona sport and has played an important role in the city's history. In 2003 and 2004, the FC Barcelona basketball team won the European Champions League. Games usually take place on Saturday afternoons in the Palau Blaugrana. Tickets may be purchased directly at the Palau prior to the match, or on Fridays.
Palau Blaugrana
Carrer d'Aristides Maillol
Metro Collblanc
Tel: (+34) 934 963 608
For information about Basketball matches and ticket prices, also call: (+34) 902 189 900.