Surfing, Windsurfing & Kitesurfing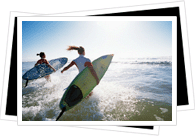 Barcelona is set on the Costa Brava, the "wild coast," and, as its name suggests, you'll find nice waves and lots of wind here. Within the city, head further north from the Barceloneta towards Poble Nou to avoid crows. Insiders highly recommend beaches of El Masnou and Montgat, a short trip from Barcelona. Surfing is a very popular Barcelona sport so many companies rent equipment and offer lessons. Just keep an eye out by the beach or call one of the centers listed below.
Base Nàutica de la Mar Bella
Av. Litoral s/n (not numbered)
Metro Ciutadella-Vila Olímpica
Tel: (+34) 932 210 432
Open daily from 9.30am-9pm
Centre Municipal de Vela
Moll de Gregal s/n (not numbered) Port Olímpic
Metro Ciutadella-Vila Olímpica
Tel: (+34) 932 257 940
Open: 9am-9pm Mon-Fri, 9am-8pm Sat & Sun
Swimming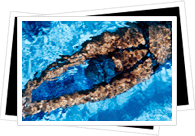 Barcelona offers a swimming option few other metropolises can boast: the beach! If you prefer swimming in a pool, here are some good options:
Club Natació Atlètic-Barcelona
Plaça de Mar s/n (not numbered), La Barceloneta
Metro La Barceloneta
Tel: (+34) 932 210 010
Open: 6.30am-11pm Mon-Fri; 7am-11pm Sat year round; Summer hours 8am-8pm Sun; Winter hours 8am-5pm Sun
One indoor and two outdoor pools; admission includes private beach access and gym.
Piscines Bernat Picornell
Avinguda de l'Estadi 30-40 Montjüic
Bus 50, 61 & PM
Tel: (+34) 934 234 041
Open: 7am-midnight Mon-Fri; 7am-9pm Sat; 7.40am-4pm Sun
This athletic club houses Barcelona's official Olympic pool. Admission includes sauna, gym, and spa bath.
Scuba Diving
The Mediterranean coast in and around Barcelona is a lovely place to scuba dive. You can discover beautiful reefs, mysterious old boats on the sea floor and get to know Barcelona's landscape from a different perspective. Here are some places to rent diving equipment, get certified and sign up for a class... it's a great way to meet people too!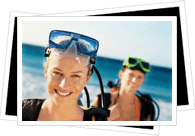 Dive Centre Nautitracción
Llull 200, Poble Nou
Metro Estación Poble Nou.
Tel: (+34) 93 309 75 74 & 93 309 11 54
Aquatics Diving School
Joan de Sada, 42 entl. 1ª
Tel: (+34) 93 815 60 92
C. T. B. Commercial Diving School
Pasaje Andalucía 21
Tel: (+34) 933320121 & 639592419
Sailing & Boating
Barcelona boasts an active boating community, with numerous sailing clubs, boat rental serivces, and certification courses. The best place to find complete information about races, regattas, lessons, rentals and local conditions is the nearest marina.
Port Masnou
Tel: (+34) 935 403 000
Port Olímpic de Barcelona
Tel: (+34) 932 259 220
Base Nautica Municipal
Av. Litoral s/n (not numbered) Platja Mar Bella
Metro Poblenou
Tel: (+34) 932 210 432
Boat rentals
Azul Sailing
Travessera de Gràcia, 192 Principal
Tel: (+34) 932 847 664
Alboran
Escullera del Poble Nou, Local 105
Tel: (+34) 932 219502
Alproache
Escuellera del Poble Nou, 150
Tel: (+34) 93 225 02 66.