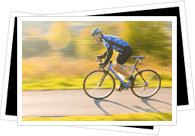 Biking in Barcelona
The city hall of Barcelona has made a great effort to create a bike-friendly atmosphere: you'll find bike lanes on many main roads, and you can take your bike on the metro (except during rush hour), FGC and rodalies trains. Add to that Barcelona's mild, sunny climate and you're all set... hop on, start pedalling and get to exploring!
While Ciutat Vella, with its winding, narrow streets packed with tourists, is not ideal for biking, there are a number of great paths outside of the old city. Most bikers - and there are plenty of them - head to Montjüic, the Coast Line, and the Parc Collserola.
Rentals & Bike Tours in Barcelona
Renting a bike in Barcelona is a cinch. If you're not ready to explore on your own, organized bike tours are a great way to get a first impression of the city.
Amics de la Bici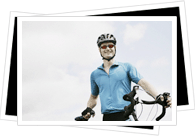 This association organizes different biking events and activities.
c/ Demostenes 19, Sants
Metro Plaça de Sants
Tel: (+34) 933 394 060
Un Cotxe Menys
Carrer de l'Espartería 3
Metro Jaume I
Tel: (+34) 932 682 105
Open: 10am-2pm Mon-Fri
Trixi
Trixi is like a bicycle taxi service: they deliver lightweight folding bikes to the address or location of your preference and pick them up again any time. Ask for information about bike tours.
Tel: (+34) 933 101 379
Biciclot
Bike tours & rentals
Passeig Martim de la Barceloneta 33 (a pie de playa)
Metro Ciutadella / Via Olímpica
TEL: (+34) 932 219 778 or 93 307 7475
Open: In summer: Monday to Sunday from 10:00am to 8:00pm; during the rest of the year: Saturdays, Sundays & holidays
Mike's Bike Tours
Tel: (+34) 933 013 612 - call and ask for details. They usually offer 4-hour tours through the old town, beach area etc.