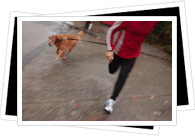 Hiking in Barcelona
Parc Collserola is the perfect place to do a little in-Barcelona hiking trip. (See Barcelona parks for more information).
If you're seeking a challenge or want to discover Catalonia's amazing landscape, there are a plethora of options. See the trips from Barcelona section for inspiration and suggestions of where to go.
Jogging in Barcelona
Barcelona is hardly the ideal city for jogging but, as with biking, there are a number of places to escape the crowded metropolitan streets.
Any Barcelona park - especially the Parc de Montjuic and Parc de Collserola - will do just fine.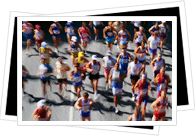 If you want a real workout you can dig your heels into the sands of the Barceloneta or just offshore on the Passeig Marítim. Off-season or summer mornings are your best bet.
For information about the Barcelona Marathon, call: (+34) 932 680 114.