Classic Music in Barcelona
Barcelona's big three for classical music and opera performances are the Palau de la Música Catalana, the Gran Teatre de Liceu, and L'Auditori. Offering stellar programs throughout the year, they're worth the trip as much for the music as for the buildings' architecture. One art nouveau, one neobaroque, one starkly modern and functional (in that order), these three Barcelona concert halls stand as the great bastions of Barcelona culture.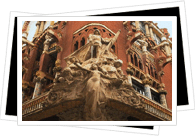 Palau de la Música Catalana
Classical & Opera Concerts
c/Sant Francesc de Paula 2, off c/Sant Pere Més, La Ribera
Metro Urquinaona
Tel (+34) 93 295 72 00
This Barcelona concert hall is considered the culminating work of the Catalan modernisme movement and protected by UNESCO as a World Heritage Site. The Palau de la Música Catalana is an ornate building replete with mosaic columns, breathtaking stained glass windows, flowered banisters and brick arches. Lluis Domènech i Montaner designed the Palau as the sanctuary of Barcelona's turn-of-the-20th century cultural renaissance, intending it to be a "garden of music" - and that it is. Symphonies the world over come to play classical music in Barcelona at the Palau, with frequent festivals and special events on any given month.
Prices range anywhere between €7 and €160 per concert, depending on the prestige of the artists and type of seat. There are varied types of seasonal passes as well. Season runs from October-June.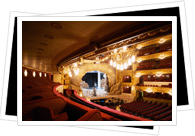 Gran Teatre de Liceu
Classical & Opera Concerts
Las Ramblas 51-59
Metro Liceu
Tel (+34) 93 485 99 00
The Liceu, one of Europe's grand opera houses, seats more than 2,300 spectators. Apart from a stacked opera program, Barcelona's stately neobaroque theater has its own symphony orquestra and chorus, organizes productions in the foyer, supports youth through a recently inaugurated academy, and welcomes national and international dance troupes.
Like the Palau de la Música Catalana, tickets here run the gamut from €8 to €150. Advance bookings are highly recommended. Programming runs from October to July, but there may be some performances in September too.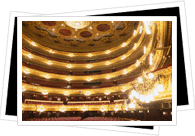 L'Auditori
(Classical & Opera Concerts)
c/Lepant 150, L'Eixample
Metro Marina/Monumental
Tel (+34) 93 247 93 00
A modern center with exceptional acoustics, L'Auditori houses the concerts of the National Symphony Orquestra of Barcelona & Catalonia. You can pick up the "Bus de les Arts" in Plaça de Catalunya for cheap transportation there and back at €0.60 per trip.
More Classical Music in Barcelona
Palau de la Generalitat
Plaça de Sant Jaume, Barri Gòtic
Metro Jaume I
Palau Robert
Passeig de Gràcia 107, L'Eixample
Metro Diagonal
Tel (+34) 93 238 40 00
Saló de Cent
Ajuntament, Plaça de Sant Jaume 1, Barri Gòtic
Metro Jaume I
Tel (+34) 93 374 19 50
La Casa Elizalde
c/ València 302, L'Eixample
Metro Passeig de Gràcia
Tel (+34) 934 880 590