Fundació Caixa de Catalunya at La Pedrera
The Fundació Caixa de Catalunya is located in Antoni Gaudí's Casa Milà, better known as "La Pedrera." La Pedrera is much more than home to a cultural center -- it's one of the city's modern architectural masterpieces.
La Pedrera means "the Quarry." Casa Milà took on this nickname for its uneven grey stone exterior, originally an insult at the time of its completion (1910); now an affectionate moniker.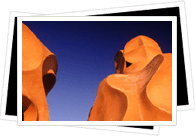 The most captivating section of La Pedrera is inarguably the roof deck. It holds a strange if slightly eerie sculpture garden of curvy forms somewhat evocative of human faces. During the summer months, this terrace opens to the public from 9pm-midnight with live music and cava (Spanish champagne) for about €10.
The attic floor of La Pedrera is dedicated to promoting Gaudí heritage. It's an interactive space that recounts the artist's life, philosophy and architectural methodology.
On the floors below, you'll also find an early 20th century Barcelona flat recreated. After all, Casa Milá was originally designed to be a modern apartment building, and this "Piso de la Pedrera" serves as a fascinating window into Barcelona bourgeois life at the time of the structure's creation.
La Pedrera also contains an auditorium and reading rooms that hold a steady stream of activities like concerts, educational workshops and film series, in accordance with Caixa de Catalunya's mission to 'foster and develop Barcelona culture.'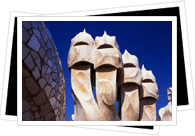 La Pedrera Information
Passeig de Gràcia, 92 / Provença, 261-265, L'Eixample
Metro Diagonal
Tel: (+34) 902 400 973
Open: daily 10am to 8pm (last admission 7.30pm)
Groups of over 10 must reserve by e-mail or fax: 934 848 840
Ruta del modernisme discount: 20%