Centre de Cultura Contemporànea de Barcelona
The CCCB (Barcelona Center of Contemporary Culture) organizes an incredibly diverse calendar of exhibitions, film series, music & dance, courses & lectures and workshops.
From the Sónar festival, which celebrates advanced music and multimedia art, to the Ciutat Vella Flamenco festival, an homage to the deepest of Spanish traditions, the CCCB strives to acheive a limitless, uncensored scope of contemporary Catalan, Spanish and international artistic productions. It's Barcelona's most prominent cultural center beyond a shadow of a doubt.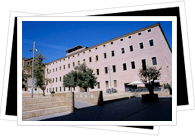 The CCCB also stands out for its unique approach to Barcelona culture by conceiving theme-oriented itineraries for residents and visitors to explore different aspects of the city in-depth. You can examine urbanization/ gentrification in action, waste and water supply, and the history of distinct neighborhoods, to name a few.
CCCB Information
c/ de Montalegre 5, El Raval
Metro Universitat
Tel 93 412 08 10
Winter hours: Tues, Thurs, Fri 11am-2pm & 4pm-8pm; Wed & Sat 11am-8pm; Sunday & holidays 11am-7pm;
Summer hours: Tues to Sat, 11am-8pm; Sundays & holidays 11am-3pm
Closed Mondays
Free under 16 years old and every first Wednesday of the month.