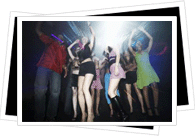 You can find a concert in Barcelona on any given weeknight or weekend. From a slew of cozy jazz spots to larger venues for rock, funk, soul, latin, fusion projects and more, Barcelona concerts are plentiful and eclectic. Below we've detailed a variety of the most popular spots...
Popular Barcelona Concert Venues
Bikini
Part discothèque, part live music venue, Bikini consists of 3 distinct sections so you can weave in and out jamming to disco, funk, rock and more. Concerts early on in the night give way to the hottest DJs spinning til the sun comes up. Prices hover between €20 and €30, while entrance to the club after midnight costs €12 on weekdays and €14 on weekends.
Harlem Jazz Club
Highly recommended for jazz heads, this tiny Barcelona concert space packs a punch with bi-nightly performances at 10:30pm and midnight (11:30pm & 1am weekends). You can enjoy straight-ahead, experimental and blues, plus flamenco, African and Latin fusion projects. If you want to get a good spot next to the stage, arrive ahead of time. We also recommend purchasing advance tickets for the late show. Prices depend on the night, but there may be about a €5 cover. Closes in August.
Jamboree
In its heyday, jazz greats Ella Fitzgerald, Chet Baker, Lionel Hampton and Lou Bennet graced the stage of this club. Nowadays, Jamboree remains exclusively dedicated to offering live jazz at 11pm and 12:30am nightly. The club continues to draw solid performers from the Barcelona concert scene, and you can stay on after to vibe to funk, swing, hip hop and R&B DJs.
La Boîte
La Cova del Drac, "Jazzroom"
These 2 great Barcelona concert establishments offer an eclectic program of jazz-related music often with African and Latin variations, in a chill setting. La Boîte turns into a club pounding mostly funk all night long after the midnight shows. Admission prices vary between €3 and €25, depending on the act.
More Barcelona Concert Venues
L'Hivernacle
London Bar
Luz de Gas
Jazz Sí Club
Game-B
Razzmatazz (Rock, Hip Hop, Electro... Concerts)
Sala Apolo
Sidecar
Centre Artesà Tradicionàrius - CAT
The Clansman
Irish Winds