Stepping into Park Guell is like stepping into a strange but beautiful alternate dimension.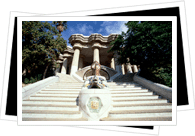 Undoubtedly among the top 10 sights to visit in Barcelona, the park was designed by the city's signature architect, Antoni Gaudi. Count Eusebi Güell, Gaudí's most important patron, commissioned the park as a segregated community of small houses for wealthy people - a commune of sorts - but the project failed and the city of Barcelona bought the partially completed experiment in 1922 for use as a public park.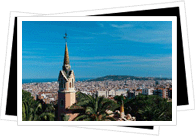 The benches, buildings, fountains and trails of Park Guell are full of colorful mosaics and undulating forms in an almost psychedelic homage to natural forms. From the guardian lizard fountain at the entrance to a broad lookout space with spectacular views of Barcelona (perfect for a sunset picnic on the curvy, tiled benches), it's best not to describe every detail and let you discover its treasures for yourself!

When you exit the metro Lesseps follow signs northeast along Travessera de Dalt, then take a left on Carrer de Larrad and you'll encounter the unmistakable fairytale-like gates on Carrer d'Olot. It's about a 10-15 minute walk from the metro and a bit of an uphill hike, but the detour is well worth it.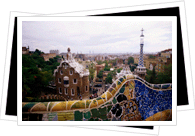 Information:
Park Guell
c/ d'Olot 7, Gràcia
Metro Lesseps, Bus 24
Open 9am-9pm June-Sept; 9am-8pm April, May & Oct; 9am-7pm March & Nov.; 10am-6pm Dec-Feb