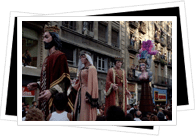 Barcelona Barri Festivals
Each "
barri
," the Catalan word for "neighborhood," has its own special traditions and contributes to the Barcelona festival calendar. There are two highly prominent "festes majors de barri":
Festes dels Tres Tombs
(Middle of January)
This festival celebrates St. Anthony Abbot, the patron saint of animals.
The day consists of traditional processions with horse-drawn carriages in the neighborhoods of Sant Andreu and the Eixample, where the parades do tres tombs (Catalan for 3 turns). People may bring their animals to be blessed at the Ronde Sant Pau in Eixample. It's a fun-filled Sunday of music and festivities.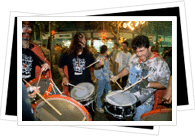 Festa Major de Gràcia
(End of August)
A city-wide favorite! This outdoor festival is held in Barcelona's Gràcia neighborhood. During the day, events and activities are held in the barri's brightly decorated streets and squares. At night, there's live music and lots of partying all over the neighborhood.
Read more here: Festa Major de Gràcia
Festes Majors in Other Neighborhoods