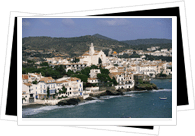 Salvador Dalí used to spend his summers in the lovely fishing town of
Cadaqués
, just north of
Girona
. It's no wonder the artist cherished this quaint, charming and largely unblemished village, characterized by
whitewashed houses and a rugged coastline.

Whiel in
Cadaqués
, you can visit a 16th/ 17th century church, the Església de Santa Maria or the Museu de Cadaqués, which includes works of Dalí among other local artists. A short walk to the charming settlement of Port Lligat will take you to the Casa Museu Dalí, the artist's summer house.
How to reach Cadaqués
Busses from the SARFA bus company go to
Cadaqués
from either Barcelona (2 times per day, €16.20, 2 1/4 hours) or
Figueres
(7 times per day, €3.65, 1 hour).
Information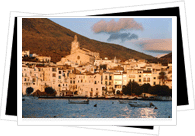 Museu de Cadaqués
Carrer de Narcís Monturiol, 15
Tel: (+34) 972 25 28 77
Open: 10am-1.30pm and 4pm-8pm Sat-Thur
Entrances fees vary depending on the temporary exhibit
Casa Museu Dalí
Tel: (+34) 972 25 10 15
Open: Summer hours 10.30am-9pm; Winter hours 10.30-6pm Tue-Sun; closed between mid Jan-mid Mar
Entrances fees: €8 and €5 (reduced)
Tourist Office
Carrer del Cotxe, 2
Open from 9am-2pm & 4pm-9pm Mon-Sat and from 10.30am-1pm Sun
Tel: (+34) 972 25 83 15.