Girona, Spain
The ancient, walled city of Girona is a fascinating Catalonia excursion. Once a Roman fortress on the important Via Augusta, then an Arab town for over 200 years with strong Jewish influences, Girona reflects the confrontational history between East and West like no other site in Catalonia.
From the old Jewish quarter and medieval Cathedral to some of Spain's best preserved Arab Baths, Girona emobodies the rich legacy of cultures that have passed through Spain since the peninsula's first inhabitants.
Girona, Catalonia's second largest city, also holds a number of interesting museums: the Jewish Museum of Girona, the Art Museum, the City History Museum, and the Cinema Museum.
How to reach Girona from Barcelona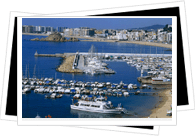 Girona lies about 90 km northwest of Barcelona. The city can be reached by trains leaving every hour from Barcelona Sants and Passeig de Graçia to Girona (ticket €5.10 to €5.85; travel time aprox. 1 1/2 hours). If you decide to go by car, then leave Barcelona northeast and get on the AP-7 motorway via Granollers.
Girona Tourist Information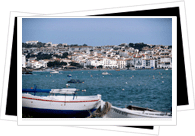 Tourist office
Rambla de la Libertad, 1; Open from 8am-8pm Mon-Fri, 8am-2pm & 4pm-8pm Sat, 9am-2pm Sun; Tel: (+34) 972 22 65 75
Cathedral & Catedral Museum
Plaça de la Catedral; Tel: (+34) 972 21 44 26; Open: 10am-2pm & 4pm-7pm Tue-Sat Mar-Jun; 10am-8pm Tue-Sat Jul-Sep; 10am-2pm & 4pm-6pm Oct-Feb; 10am-2pm Sun & holidays; Entrances fees: €3
Jewish Museum
Carrer de la Força; Tel: (+34) 972 21 67 61; Open: Summer hours 10am-8pm Mon-Sat; Winter hours 10am-6pm Mon-Sat; 10am-3pm Sun & holidays; Entrances fees: €2
Arab Baths
Carrer de Ferran Catòlic; Tel: (+34) 972 21 32 62; Open: 10am-8pm Tue-Sat Jul & Aug; 10am-7pm Tue-Sat Apr-Jun & Sep, 10am-2pm Tue-Sat Oct-Mar; 10am-2pm Sun & holidays; Entrances fees: €1.50
Empuriés
Empuriés holds Catalonia's most important Roman ruins next to those of Tarragona.
A short trip from Girona and 2 km north of the beach town of L'Escala, you can explore some fascinating Greco-Roman remains like a market street, temples and an old amphitheater.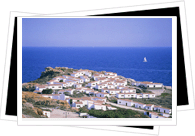 How to reach Empuriés
You can reach Empuriés by either SARFA buses from Barcelona, Figueres, Palafrugell, and Girona or by car.
Empuriés Tourist Information
Empuriés - Greco Roman Site
Open: Summer hours 10am-8pm; Winter hours 10am-6pm; Entrances fees: €2.40; Tel: (+34) 972 45 08 02
Tourist office at L'Escala
Plaça de las Escoles 1; Tel: (+34) 972 770 603; Open: 9am-8.30pm Mon-Sat, 10am-1pm Sun