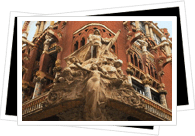 While Las Ramblas itself holds the Wax and Erotica Museums, you'll find the more interesting elements of Barcelona culture in the Barri Gótic's charming side streets and plazas. This area is home to the fascinating City History Museum; the Liceu, Barcelona's stellar opera house; Jamboree, the old stomping grounds of Ella Fitzgerald and Chet Baker; and all the most important works of medieval Barcelona architecture.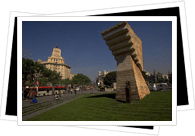 Ciutat Vella, another name for this area, means "Old City." Ciutat Vella refers everything between the old port and Plaça de Catalunya (the Barri Gòtic plus La Ribera and El Raval). Between April and June you'll stumble upon numerous outdoor Ciutat Vella concerts, especially during 3 key annual music festivals: the Barcelona Flamenco Festival, the Barcelona Festival of Early Music, and the Festa de Música de Barcelona.
Where to experience Barcelona Culture in Ciutat Vella:
Museu d'Història de la Ciutat/ The City History Museum
Museu de Cera/ The Wax Museum
Museu de l'Erotica/ The Erotica Museum
Museu Federic Marès/ The Federic Mares Museum
Palau de la Generalitat (Classical & Opera)
Gran Teatre del Liceu (Classical & Opera)
Harlem Jazz Club (Jazz, Rock, Latin, Blues)
Jamboree (Jazz & Blues)
Saló de Cent (Classical & Opera)
Sidecar (Rock, eclectic...)
Movie Theaters (original version with subtitles)
For complete Barcelona culture listings (address, telephone, metro, etc.), click on the title links of each section above.