Tourism Highlights around the Gothic Quarter
Plaça de Catalunya
Las Ramblas
Gran Teatre del Licieu
Mercat de la Boqueria
La Seu Cathedral
Barri Gotic / Gothic Plaças
The City History Museum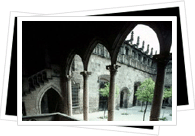 Plaça de Catalunya is a good place to start, especially because the aerobus and train from the airport both stop here. Barcelona's main train station - Estació Sants - is also on the same metro line as Catalyuna. The plaza itself is bordered by large department stores, including the mammoth El Corte Inglés and French FNAC, plus a couple of terraces great for meeting friends and having a café con leche.
The northwest end of Las Ramblas meets the southwest corner of Plaça de Catalunya. Las Ramblas is a long avenue with a central pedestrian walkway full of newsstands, cafes & restaurants, mimes, pavement artists, and more. The name "Las Ramblas" is plural because in reality this stretch is made up of 5 consecutive streets: Rambla Canaletes, Rambla Estudis, Rambla Sant Josep, Rambla Caputxins and Rambla Santa Mònica.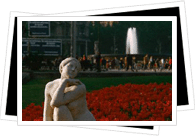 Las Ramblas is Spain's most famous boulevard. On the way down, you'll find many points of interest, such as Barcelona's opera house, the Gran Teatre del Licieu, and the Mercat de la Boqueria, a beautiful outdoor modernista food market. When you reach the end, you'll find yourself at the Monument a Colom, a tall homage to Christopher Columbus which signals the entrance to the harbor and Port Vell.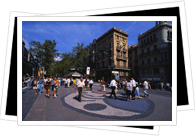 East of Las Ramblas you'll enter into the heart of the Gothic Quarter ("Barri Gotic"), the medieval section of Barcelona. Barcelona's Cathedral - La Seu - is a prime example of the Catalan Gothic style, with beautiful exterior adornment added later in the 19th century. The surrounding neighborhood is full of Gothic Plaças characterized by terrace cafes, impromptu outdoor concerts, bars and shops. The most notable plazas are: Plaça del Rei, Plaça de Sant Jaume, Plaça de Sant Josep Oriol and PLAÇA REIAL. There are also remnants of Roman walls, tombs and temples around here, as this is the part of the city where the Romans first settled. The best way to get a sense of ancient Barcelona is to vist the City History Museum on the Plaça del Rei.
It's a pleasure to just wander the streets off of Las Ramblas in the Gothic Quarter and stumble upon endless treasures and surprises.