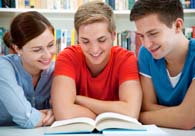 Below you can get acquainted with the many Spanish courses offered at Enforex Barcelona.
General Spanish Courses
The General Intensive Spanish Course is our most popular program. YOU get to choose the intensity (10, 20, 20+5 or 20+5+5 lessons/week) and duration (from one week to a whole year) that work best for you, but you always count on the same proven methodology and materials in all of our Spanish immersion courses. Choose from:
Intensive & Super Intensive Spanish
(1+ weeks)

Long Duration Course
(12+ weeks)

Semester or Year Abroad
(24+ weeks)

Travel & Learn Spanish
(follow course in other Enforex cities- at no extra charge!)
Special Spanish Courses
Keeping in mind that each and every student has diverse needs and interests, we strive to offer you a wide range of course options. Therefore, whether you're looking for an individualized course of study, exam preparation or experiencing the holidays in Spain, we've got just the course for you!
One on One Lessons
(1, 5, 10, 20, 30+ lessons/week; min. 1 week)

Student Groups
(personalized program)

Christmas Spanish Course
(20 lessons/ week; 1 or 2 weeks)

DELE Exam Preparation
(20 lessons/week; 2 or 4 weeks)

Academic Spanish Courses
Our Academic Spanish Courses are designed for students who have already reached an intermediate to advanced level of Spanish and can therefore express themselves comfortably in everyday situations. Our academic courses focus on specific facets of Spanish culture - history, literature, art - and are complemented by extra-curricular activities and visits accompanied by an ENFOREX instructor.
Spanish History
(10 lessons/week; 2 or 4 weeks)

Spanish Literature
(10 lessons/week; 2 or 4 weeks)

Spanish Art History
(10 lessons/week; 2 or 4 weeks)

Business & Professional Spanish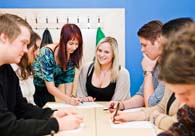 Whether you're a business executive, a Spanish teacher or any other current or future member of the working world, Enforex Barcelona offers several Spanish courses specially geared towards professionals of all kinds. You'll improve your general Spanish skills while, at the same time, acquiring the vocabulary and cultural knowledge necessary to feel comfortable speaking and writing about all sorts of topics, both professional and everyday.
Executive One on One Course
(intensity, duration & content up to you!)

Business Spanish Course & the Chamber of Commerce Exam
(10 business lessons/week; 2 or 4 weeks)

Internship in Barcelona
(optional intensive course + 8-week internship)

Junior Spanish Programs
The earlier students begin learning a language, the better! That's why we encourage youngsters to come discover Spain's culture and language with an immersion program. These programs offer the unique opportunity for youngsters to expand their cultural horizons and get on the road to becoming bilingual. Courses are available all year round, whether at an Enforex Spanish school in Spain, a Spanish high school or a Summer Language Camp.
Intensive Spanish for Teenagers
(10, 20, 20+5, 20+5+5 lessons/week; 1-12 weeks; ages 14+)

High School Study Abroad Program
(semester or year in Spanish high school; ages 13+)

Barcelona Summer Camp
(ages 5-18)