Highlights:
Passeig de Gracia
La Manzana de Discordia
Fundació Antoni Tàpies
Museu Egipci
Casa Miló (La Pedrera)
La Sagrada Familia
A good way to get to know the Eixample is to start at Plaça de Catalunya and work your way up Passeig de Gracia.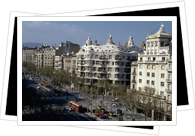 An important shopping avenue, Passeig de Gràcia has everything from restaurants to high fashion boutiques. It also gives the visitor a nice general feel of the Eixample's personality as a neighborhood.
Just 4 blocks up from Plaça de Catalunya is La Manzana de Discordia, a block with 3 important modernista buildings by the movement's three top architects: Casa Lleo Morera by Domènech i Montaner, Casa Amatller by Josep Puig i Cadaflach, and Casa Batlló by Antoni Gaudí.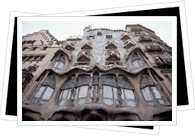 You might want to detour west just after the Manzana de Discordia to find the Fundació Antoni Tàpies, a wonderful contemporary art museum housed in one of the first modernista buildings by Domènech i Montaner. (See major museums for details).
Back on Passeig de Gracia, keep walking north to the Museu Egipci, and past that La Pedrera, another eccentric work by Antoni Gaudi. La Pedrera also houses the Fundació Caixa de Cataluna, an excellent cultural center with frequent exhibitions and concerts.

East of La Pedrera is the La Sagrada Familia. Gaudi's culminating work of fantastic proportions, the Sagrada Familia is the one sight you should see if pressed for time.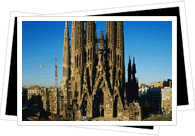 See the modernisme page for more about Antoni Gaudi, La Sagrada Familia and the modernista movement, all crucial elements for understanding L'Eixample's character.